November 2019 Newsletter
Parent Teacher Conferences
Tuesday, Nov 12 @ Thayne Elementary 430pm to 7pm
Wednesday, Nov 13 @ SVMS 4pm to 7pm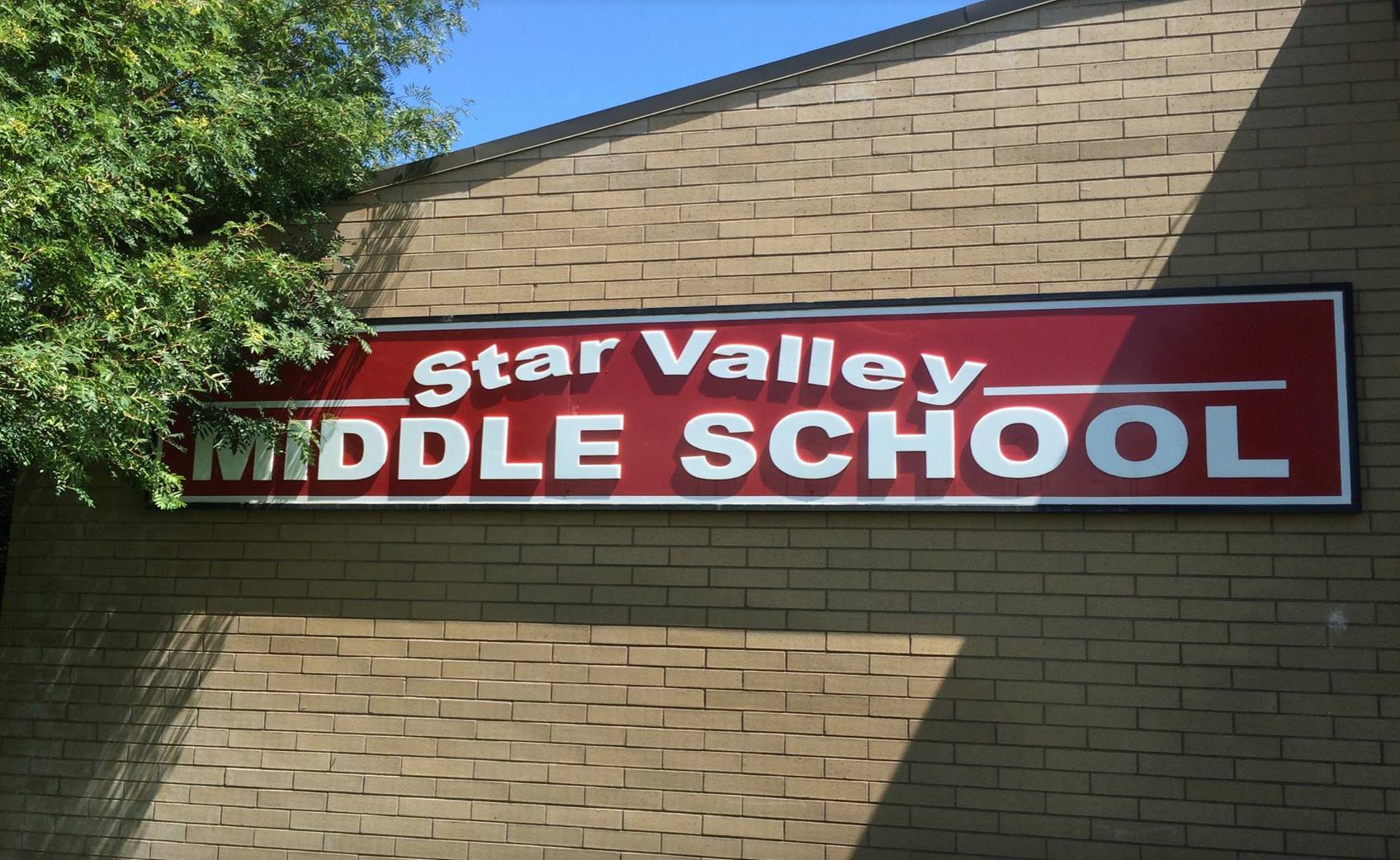 Important Dates & Upcoming Events
Nov 2 - Wrestling @ Green River, 9am
            Girls Bball @ Evanston, 8am (A only)
Nov 5 - 7th Grade Warrior Clan
Nov 8 - No School
Nov 9 - Wrestling @ Evanston, 10am
             Girls Bball @ Home w/Jackson,
              Rock Springs & Montpelier, 9:30am
Nov 11 - Veterans Day Assembly @ 11am
Nov 12 - Parent Teacher Conferences @ Thayne
Nov 13 - Parent Teacher Conferences @ SVMS
Nov 14 - Girls Bball @ Cokeville, 4pm
Nov 15 - No School for Students/Staff PD
Nov 16 - Wrestling @ Lyman, 9am
Nov 19 - Girls Bball 7th @ Jackson, 4pm
               Girls Bball 8th @ Home w/Jackson, 4pm
Nov 20 - Band & Orchestra Concert
                   @ SVHS, 7pm
Nov 21 - Wrestling @ Cokeville, 4pm
               Girls Bball @ Home w/Rich, 6pm
Nov 23 - Wrestling @ Kemmerer, 10am
Nov 27 - Early Release, Thanksgiving
Nov 28-29 - Thanksgiving Break
What is Stars at SVMS?
Students and Teachers Accepting Responsibility to Succeed
Stars is a class that all students at SVMS are assigned. Stars teachers serve as mentors -- getting to know students on a personal level, monitoring grades, providing service opportunities, learning social skills and teaching students about CLASSY.


Wrestling and Girls Basketball Schedules below
National Junior Honor Society News
Applications for NJHS are open until the week before Thanksgiving to any 7th or 8th grade student interested. Applications can be picked up from Mrs. Lewis or at the SVMS office.

NJHS is doing a fundraiser over the next few weeks for a charity. NJHS members will be selling candy bars at lunch time. Bring your $$ and support a good cause.
School Nurse Corner
The vision screenings are 99% complete!  Letters have been sent to parents/guardians if a student did not have at least 20/30 vision in both eyes at a distance or 20/32 for near vision. I have vouchers for a free optometrist exam and glasses, if needed, for any student that has no insurance covering vision and the family income is at, or under, 200% of the Federal Poverty Level guidelines (https://aspe.hhs.gov/poverty-guidelines.)  Please contact the office if you'd like a voucher.
Vision Screenings do not pick up all visual issues.  It is recommended that everyone have an annual professional visual exam.
*********************************
November is National Diabetes Awareness month!  Do you know the signs and symptoms of diabetes?  (Frequent urination, fruity smelling breath, lack of energy, unquenchable thirst) Go to https://worlddiabetesday.org/ and take the short test to see if you are at risk of developing diabetes. How much do you know about diabetes? Check out this site http://discoverdiabetes.idf.org/
November 14 is World Diabetes Day.  I encourage everyone to wear blue to help raise awareness of diabetes.
Here are some ways you can help raise awareness of diabetes and how it affects our lives.  Download the Blue Circle selfie app on your phone or tablet
Remember, diabetes is a family affair. 1 in 2 people living with diabetes do not know they have it! Uncontrolled diabetes can lead to heart disease, nerve damage, blindness and death.
YEARBOOK - Pictures Needed!
Email your child's summer/fall activity pictures to
gro.2dscl@bawhcs.nilak

- Looking for hunting, fishing, and summer activities.
Girls Basketball Schedule
Sat, Nov 2 - 8am - Evanston Tournament @ Evanston (A teams only)
Sat, Nov 9 - 9:30am - Star Valley Tournament with Jackson, Rock Springs & Montpelier
Thurs, Nov 14 - 4pm - Cokeville @ Cokeville
Tues, Nov 19 - 4pm - 7th Grade @ Jackson, and 8th Grade Jackson @ SVMS
Thurs, Nov 21 - 6pm - Rich @ SVMS
Tues, Dec 3 - 4pm - 7th Grade Green River @ SVMS, and 8th Grade Green River @ Green River
Sat. Dec 7 - 10am - Lyman @ Lyman, and 1pm Mt View @ Mt View
Tues, Dec 10 - 4pm - Montpelier @ Montpelier (1 game per grade level)
Sat, Dec 14 - 1oam - North/West Tournament @ Pinedale (A teams only)
Coaches: Joe Wetzel, Kalin Schwab, Allen Simpson
Wrestling Schedule
Sat, Nov 2 - 9am - SVMS @ Green River
Sat, Nov 9 - 10am - SVMS @ Evanston
Sat, Nov 16 - 9am - SVMS @ Lyman
Thurs, Nov 21 - 4pm - SVMS @ Cokeville
Sat, Nov 23 - 10am - SVMS @ Kemmerer
Sat, Dec 7 - 10am - SVMS @ Pinedale
Thurs, Dec 12 - 2pm - Home Meet
Thurs, Dec 19 - 10am - Top 3 Weight Class, Bracket Tournament @ Evanston
Coaches: Joe Hale, Kevin Waldron, Jeff Anderson